21 September 2014
Hôtel Balthazar, Rennes.
If you follow me on Instagram or Twitter, you probably know how much I loved theses past few days… and there's a reason behind that happiness : the Hotel Balthazar. This Hôtel is located in the center of Rennes, Frances. First things first I've got to say, Rennes is such a beautiful city and when I arrived in this town people were smiling, in fact, Rennes is the one of the best city to live in France. But anyways let's go back to my situation, the Hôtel Balthazar invited me to test their luxury Hôtel & Spa. The staff was on point, always asking me if everything is ok, if I had questions and stuff, they were lovely and that's very important to me. My bedroom was very "hype" but very chic at the same time, I loved it so much, I had the sensation to be on my flat… And I love this feeling of being home.  Thanks again to the Hôtel Balthazar for having me and the team of SnapTraveller, I had such a good time there! If you're going to Rennes soon, click here to reserve a room in my new favorite hôtel : Hôtel Balthazar
The view of the hôtel from the street.
An outside garden inside the hôtel where you can relax and chill.
All the hôtel is decorated with a lot of various house objects to make an absolute cosy atmosphere.
The bedroom I was in was full of light with some amazing patterns on the walls, at the end of the day you're sure to sleep well in this bedroom because honestly it's just paradise.
There's a rooftop on the hotel where you can chill and be peaceful watching the city of Rennes (or doing whatever you wanna do).
The room service offered me theses 3 little cakes and let just tell you something : it was heaven in my mouth, literally .

The Spa of the Hôtel ' Nuxe '.
16 September 2014
10 Reasons To Buy the Apple Watch
Apple recently introduced the most buzzed piece of wearable tech ever to drop, the Apple Watch. And clearly let me tell you something, it is totally buzz-worthy. Here are 10 reasons I love the Apple Watch so much :
01 // You Can Pay With It!
No more need to search your credit card  into your bag, you can just… use your watch! That's the real deal with the Apple Watch and probably the first reason I'am gonna buy it. Apple Pay is the company's version of an e-Wallet. The tech giant even claims that the service offers more security than credit cards! That's awesome! One can pay transactions by simply holding their wrist up to a scanner for a few seconds…. MAGIC I'am telling you! Apple Pay is accepte at 220,000 stores and couting… Mcdonald, Subway, Macy's, Sephora, Starbucks, Uber… it will be available literally everywhere and that's a dream coming true.
02 // Customizable Watch Faces To Match Your Outfit!
The design of the new smartwatch is largely considered in making the new Apple Watch. The company thought of different faces for the smartwatch. The watch is also customizable according to the user's preference and allows them to tweak the widgets.
03 // Digital Touch
One thing that sets the Apple Watch apart from other smartwatches already available in the market is its Digital Touch feature. This particular feature allows users to send messages to other Apple Watch owners with a tap. The watch lightly vibrates to notify the recipient. Users can also share their fitness achievements through this feature..
04 // A Strong Screen Display

It was long rumored that the iPhone 6 will pack a sapphire screen display, which did not materialize but the Watch and the Watch Sport Edition (the Watch Sport has a strengthened Ion-X glass protection).  This means that the device is not susceptible to damage, and it's also waterproof. As the watch is constantly exposed, it is a good thing that the device's screen is strong enough to withstand pressure…
05 // Fitness Tracker

When Apple's smartwatch was first rumored, many thought that the tech giant will target fitness enthusiasts — and they are quite right. The watch packs two great apps perfect for people who love to work out. First is the Activity app, which tracks how much one exercises, and tells them whether they have hit your daily goals. Another app in the new smartwatch is the workout tracker that helps the user to track the number of calories burned during workout…
06 // Functionality Beyond Notifications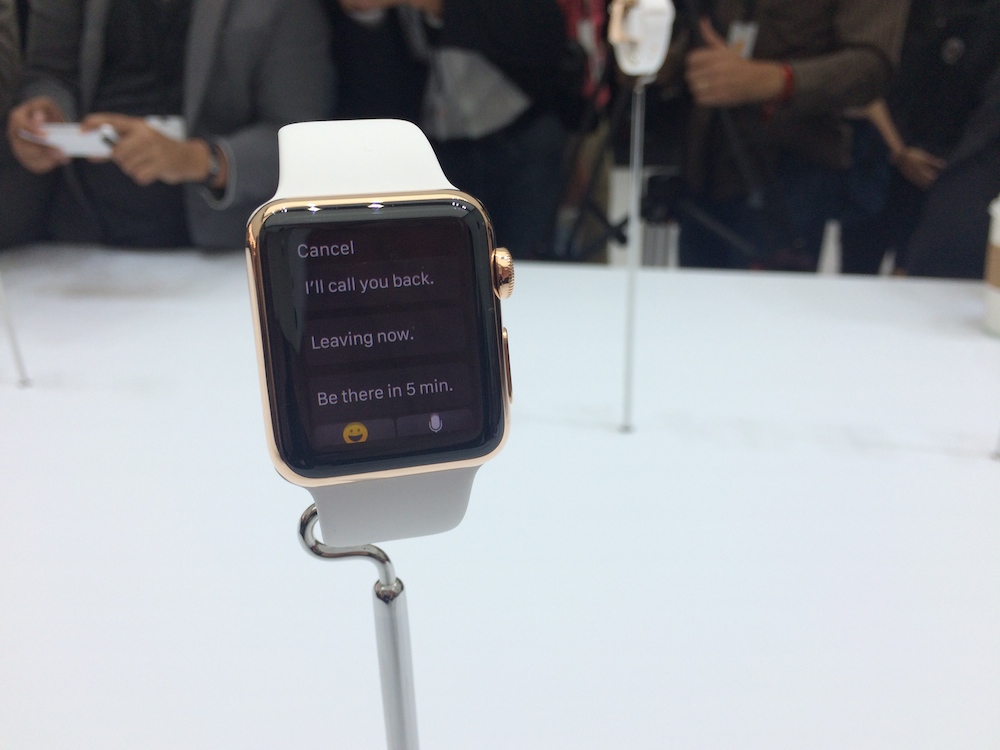 One of the things I didn't like about the LG G Watch is the fact that the only actions I could make with the watch were to read the notifications and dismiss them, while anything beyond that required that I will open the "full app" from my Android phone. Apple managed to present new use cases that demonstrated new capabilities directly from the watch and that is before publishing those API's to the developers, which I'm sure will turn them into super cool features in their apps. We are just scratching the surface right now with wearable capabilities and seeing some apps that take the watch beyond just notifications is a positive sign.
07 // It Has Animated Emojis!

Everyone's favorite yellow emoticons will have more verve on the Apple Watch. Users will be able to customize the facial expressions of emojis by touching different portions of the figure's face. For instance, users can touch the emoji's mouth to widen its smile or tap its eyebrows to raise them higher. The 3D figures spring to life before being texted off to a friend also using an Apple Watch. The redesigned emojis are a way to compensate for the fact that the Apple Watch screen is prohibitively small for sending traditional text message to friends. In addition to animated emojis, Apple Watch will analyze incoming texts and present a selection of potential responses that might make sense in context. Users can also use the phone's microphones to dictate text.
08 // You Can Send Someone Your Heartbeat

Apple spent a lot of time at its press event talking about how the Apple Watch is the most personal device it's ever created. Case in point: a user can "send" someone else their heartbeat by pressing two fingers to the Apple Watch screen to allow it to measure a pulse. Users can also share sketches, sound recordings and wrist-based love-taps for other forms of 21st-century flirtation….
09 // You Can Connect It With Your iPhone

Like many smartwatches, the Apple Watch is meant to be used in conjunction with a smartphone. Think of it as as an easier-to-reach display that can relay information from your phone—when someone sends you a text, for instance, the Apple Watch can display the message on its screen for easier access. Though the watch was unveiled along with the iPhone 6, it will also be compatible with the iPhone 5, iPhone 5s and iPhone 5c….
10 // There's Siri!

Press down the digital crown to use Siri just like on your iPhone or iPad. With every passing iteration, we come closer and closer to living the future we were promised … jet cars, 2-way wrist tvs and all.  "Siri, where's my jetpack?". Once you get the Apple Watch you'll officially be the new Batman!
11 September 2014
5 New Favorites Brands
You guys know I'am a shopaholic right ? I go shopping at least 4 times on a week, all around Paris & London. That's just how I'am, I know the best places to go and where to find hype clothes that you probably fancy about. Well since I'am clearly a big fashion lover and a fabulous blogger (kidding, or not?), I should probably advice you about what's the best on the market right now. Here is my top 5 of my new favorites brands :
05 // SANDRO
You probably never heard about this brand unless you live in France, LA or in a big city light. This french brand is one of my favorites when I have to buy classy products. When I'am looking for this type of clothes, I want a simple product with a touch of originality and Sandro is perfectly making it. Go visit their website if you want to buy 1 or 10 products (like me) : www.sandro-paris.com
04 // IRO
IRO is a very modern and trendy brand that always make me feel elegant and gentleman with their products. This brand is very more simple than Sandro but also more recognizable because they always make a lot of leather products which I'am in love by the way, their jackets are such on point. They're probably gonna take over the world soon, and be recognized as a classic.  IRO : www.iroparis.com
03 // ELEVEN PARIS
This is my biggest and most secret brand crush of 2014. ELEVEN PARIS is one of theses brand that will make you feel ORIGINAL, because every products, I swear E-V-E-R-Y products, are just so cool and hype, it's just impossible not to like them! So this is the brand where I buy some of my fancy clothes because the style of Eleven Paris is a mixture of Classy & Fancy & Young. ELEVEN PARIS : www.elevenparis.com
02 // THE KOOPLES
While the clothes speak for themselves and make it easy to do some serious damage to ones credit card, I always go shopping to The Kooples whenever I want to buy something very dandy, dapper… it's very special, it's like rock fashion meet classy fashion. It ranges from sweet flowing silky tops, shorts with suspenders and loose knit sweaters,  to wolf skull print tees, leather skinny capris, and deconstructed hoodies, to tailored three piece suits, flowing foulards and gentlemanly hats and ties. The Kooples : www.thekooples.com

01 // RAD
RAD is an online shop and one of my new FAVORITES just after TOPMAN, it's clearly not a luxury brand, it's a shop where you'll find a lot of basic tops with some sentences or images on it and everytime I go to the RAD online shop, I find a something funny or something I can relate with like " I love my bed " sweater. I think it's cute and fancy I love it : RAD  www.rad.co